RP (Qualifying) | ENGLISH. GUJARATI. HINDI

Hiral is an EMDR-trained trauma therapist who works with adults with personality and identity confusion due to prolonged childhood trauma. She also works with adults with obsessive compulsions and who have survived acute traumas. Hiral uses integrative, evidence-based approaches to therapy. Her calm and focused style helps her clients feel safe and cared for as she collaborates with them in healing their unresolved traumas and relationship challenges.
"We are all just walking each other Home"
Hiral works with individuals who struggle with identity confusion, social connection challenges, and who are experiencing the overall impacts of unresolved traumas. She is a compassionate and highly skilled psychotherapist dedicated to helping her clients regain their authentic identity.
With almost a decade of experience in the field, Hiral has cultivated a deep understanding of the complexities of the human mind and the intricate dynamics that shape personality, behaviours, emotions, and relationships. Having lived through the impacts of trauma herself, she understands the journey, its challenges, and its gifts.
Hiral holds a master's degree in psychology from India and has extensive training in various evidence-based modalities like EMDR, Somatic Therapy, Person-Centred Therapy, Cognitive Behavioural Therapy (CBT), Dialectical Behavioural Therapy (DBT), Psychodrama and mindfulness-based interventions. Hiral tailors each treatment plan to meet her client's unique needs.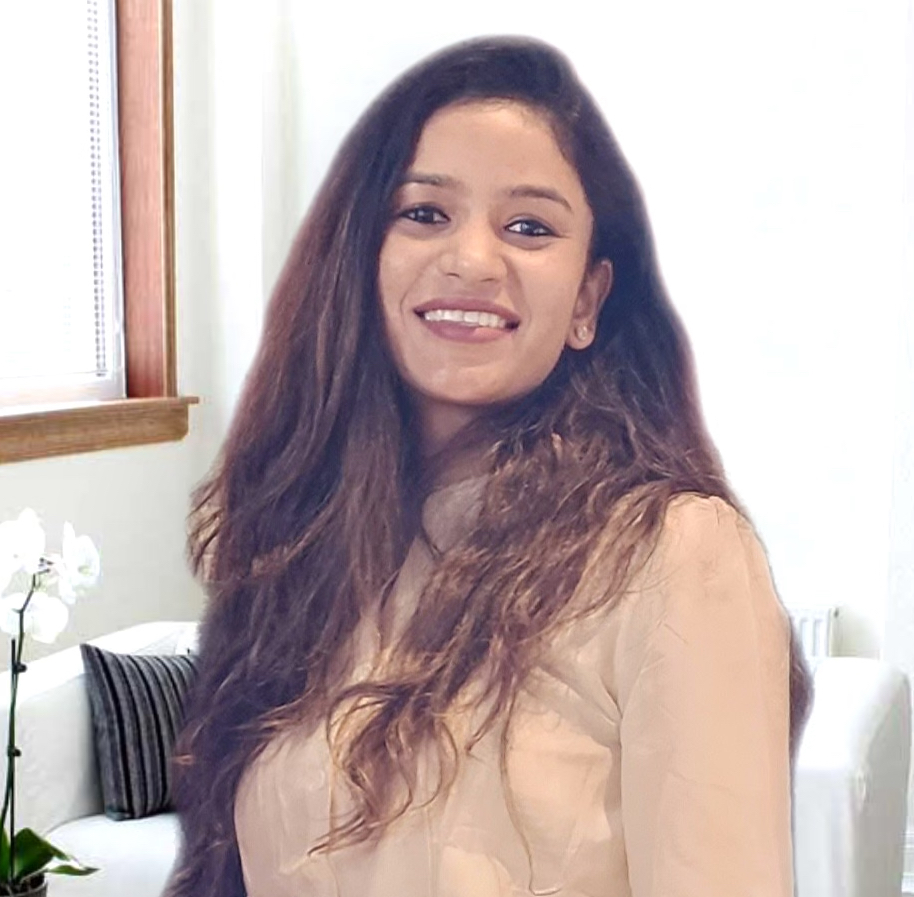 With her experience as an immigrant, she understands the challenges of major life transitions and their impact on an individual. Having worked with a diverse clientele ranging from adolescents to adults and individuals from various cultural backgrounds, Hiral creates a warm, nonjudgmental, and empathetic therapeutic environment where clients feel safe to explore their deepest concerns. By fostering a collaborative and trusting relationship, Hiral supports clients in uncovering the root causes of their challenges, identifying negative patterns, and developing effective coping strategies throughout the healing process.
Hiral's area of expertise is trauma healing (both acute and complex) including their various symptoms: anxiety, depression, relationship issues, self-esteem and confidence challenges. She is also well-versed in the intricacies of life transitions. Through an integrative and holistic approach, Hiral addresses the interconnectedness of mind, body, and spirit, recognizing the importance of cultivating overall well-being.
Passionate about staying up-to-date with the latest advancements in the field, Hiral continuously engages in ongoing professional development and regularly attends psychology-related conferences and workshops. By integrating new research findings and therapeutic techniques, Hiral ensures clients receive the most effective and evidence-based treatments.
Hiral firmly believes in the transformative power of therapy and the potential for individuals to achieve personal growth, resilience, and lasting change. Through her expertise, empathy, and unwavering dedication, Hiral empowers clients to navigate life's challenges, embrace their authentic selves, and create fulfilling and meaningful lives.
Languages Spoken
English, Gujarati, Hindi
Personal
In her spare time, Hiral enjoys spending time in nature, dancing, reading, engaging in spiritual practices, listening to music and connecting with her creative side.
Education
Bridge to Registration & Employment in Mental Health | MNLCT (Toronto)
Masters of Arts in Clinical Psychology | Gujarat University (India)
Bachelors of Arts in Psychology | Gujarat University (India)
Courses and Certifications
Integrating EMDR into Clinical Practice
Post-Traumatic Stress Disorder, Borderline Personality Disorder or Complex PTSD. Emerging Definitions and Treatment Directions, Safe Guards Trauma Informed Training
Vicarious Trauma, Compassion Fatigue & Burnout, Mission: Empowerment led by Françoise Mathieu
Working with Complex Trauma: Untangling Somatic Wounds, Trauma Solutions led by Dr. Peter Levine and Dr. Diane Poole Heller
San'yas: Indigenous Cultural Safety Training, Provincial Health Services Authority Indigenous Health Program
Trauma Fundamentals, Canadian Mental Health Association
Advancing Recovery, Canadian Mental Health Association
Certificate Program in "Therapists Internal Processes and Applications", Maanas The Inside Story (India)
Certificate in "Advanced Practice in Cognitive Behavioral Therapy," Adler Faculty of Continuing Education
Workshop in "Psychodrama," Psychodrama Institute of Melbourne
Certificate workshop in "Transactional Analysis," International Transactional Analysis Association
* Session Fees per Hour (plus HST)
Individual Trauma Counselling: $140